Health information technology has had a good run for the past decade. This story now becomes even more intriguing as health IT taps into new data to develop new patient care insights, enriching the toolbox for delivering better care.
Readers will recall that the first iPhone arrived on the scene less than a decade ago in 2007, but we've experienced many technology shifts since. Meanwhile, as technologies like the iPhone have evolved, cheaper data storage and new data platforms have matured to meet the needs of healthcare practices awash in new data and unstructured data (in images, video, sound and social media files). Big data and new technology are all around us.
As these technologies are still evolving, now is a good time to get acquainted with the rich range of new data sources and how these new technologies address important care challenges.
Bear in mind, as healthcare targets value-in-care, there is a premium on developing actionable data and insights. Better insights mean better care, and such insights depend on unstructured data blended with traditional (relational database) data using newly matured technology platforms (e.g. Natural Language Processing (NLP) and machine learning).  The result: Both new data and new platforms are generating insightful new approaches to care, giving practitioners a new set of tools to enhance their work with patients.
For readers who want to understand this data-rich world, we've developed a new HIMSS resource, "Blending Structured and Unstructured Data to Develop Healthcare Insights," illustrating some of the emerging new ways of blending data.
Readers will be interested in one feature, a data flow graphic illustrating data in the full cycle of care (see below). In the resource, we offer three case studies demonstrating how new data-driven insights improve care for different patient groups: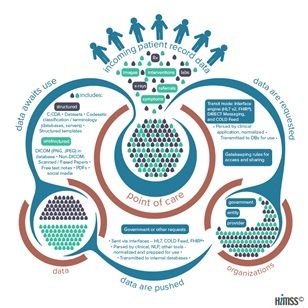 Among the complex care challenges we address in our case studies:
For chronic care patients, how do we develop treatment plans that keep physicians abreast of work by all caregivers engaged in a patient's care, including family members, friends and home-care providers? One answer is to use social media to reflect the "extended discussions" around the patient and process the discussions with NLP technology.
As veterans return from war zones, how can we tap the critically important social (and environmental) determinants of health and help veterans maintain good health?  One answer is that while newly-returned vets may experience PTSD as battlefield violence shadows them home, a new study shows  group support and structured interactions can help improve their ability to maintain good health.
As patient data is exchanged across organizations, how do we protect vital patient privacy information found in C-CDAs?  The VA adopted proprietary technologies to parse terminology codes and identify key conditions using NLP.
Read more in Blending Structured and Unstructured Data to Develop Healthcare Insights.
Looking for more information related to health information exchange and interoperability? Check out these other HIMSS resources: